January 2011
Discuss this article on the forums
Written by Jody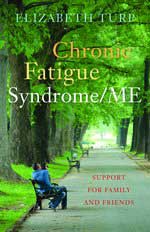 I've written a book review and posted it on empowher.com
Here is a link –
"Elizabeth Turp's Book "Chronic Fatigue Syndrome/ME": A Review"
Here is Jody's review
Elizabeth Turp has written a book called "Chronic Fatigue Syndrome/ME" for sufferers of CFS/ME and the people who care about them. A book on Chronic Fatigue Syndrome/ME is a challenge for any writer because CFS/ME is a complex illness for which insufficient research has been done to this point.
The ME stands for myalgic encephalomyelitis, another name used for this condition.
CFS/ME is a life-stopping illness that can ransack decades of the sufferer's life, affecting their ability to think, to breathe, to stand on their feet.… Read More
Add Your Comment
Discuss this article on the forums
Written by sproggle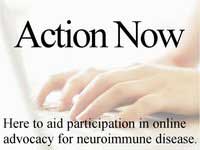 I'd really appreciate it if members of this forum could get behind this campaign, we need as many participants as possible to give us the best chance of receiving a meaningful response and not a useless standard reply!
The full details, which I have posted below, can also be seen in an open Facebook note on the new "Action Now" page http://www.facebook.com/note.php?note_id=160207910694219
Details on the previous stages of the campaign can be viewed here(you do not need to be a Facebook member): http://www.facebook.com/notes/action-now/about-the-policy-change-now-campaign/159735414074802… Read More
---
You don't need to have participated in previous campaigns or be a UK resident to take part.
Add Your Comment
Discuss this article on the forums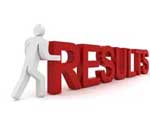 2000
Citing stagnation in the field, CAA stops receiving or funding grants and instead launches a series of scientific symposium designed to open up new avenues of research. They include "Does Dysautonomia Play a Role In the Pathophysiology of This Complex Illness ", "Neuroendocrine Aspects of CFS ", Immunological Aspects of CFS " and "Promising Diagnostic Tools and Processes"
The Annual Report cites almost 5,000 donors
Creates traveling Education Exhibit. Overall Association spends $800,000 on physician education
A new publication " the CFS Research Review" is sent out to over 7000 physicians, government scientists and health professionals free of charge four times a year and to Association members.
Add Your Comment
Discuss this article on the forums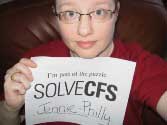 Jennifer Spotila was Chairman of the Board of the CFIDS Association of America from 2008-2009 and is a Board member today.
Can you briefly tell us your story with chronic fatigue syndrome (ME/CFS)?
Jennie's Story – I was working as an attorney in Philadelphia when I got sick in October 1994. My doctor insisted I just had "a virus" and so I pushed myself very hard to work through it. After three months, I asked for a one-month leave of absence from my firm.… Read More
Add Your Comment
Discuss this article on the forums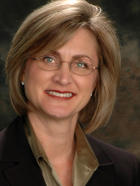 In 2001 Marc Iverson resigned from the CAA Board citing different priorities and a different vision for the organization. He envisioned an organization that would become a hub for patient activities on the internet and had his view prevailed presumably we would have seen forums, blogs and physician and treatment review sections and things of this sort.

Companion Articles

Kim McCleary, on the other hand, envisioned an organization that would build a voice for chronic fatigue syndrome with important policy makers such as the medical community, the media and elected officials and leverage federal assets to get the word out.… Read More
Add Your Comment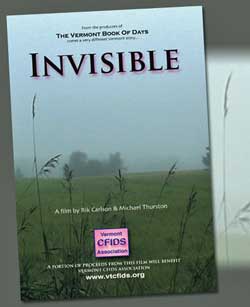 What is ME/CFS in Vermont like?' Invisible' suggests that it's much like it is in the rest of US. A struggle for health and a struggle to maintain ones sense of mental well-being in the face of a medicals community's disregard and often disdain. Vermont does have something or rather someone who is different, though, and that is Rik Carlson – someone who's felt compelled to document the CFS Community's story there. He did it first in his autobiography, Monkeys Have Wings and now he's doing it on film.
The movie starts off with a solitary man walking a dog disappearing into a woods…a poignant image for a disorder which causes many people to disappear from work and from the community they used to frequent as they move deeper into the entangled and largely solitary woods that make up their world of CFS .… Read More
1

comment