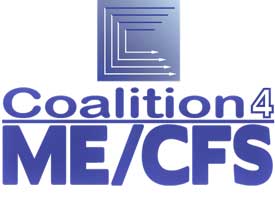 The Coalition4ME/CFS
– a coalition of US ME/CFS non-profit organizations – has issued a Call to Action on the impending DSM-5 proposal and provided information to assist organizations and patients in writing their own letter to the American Psychiatric Association. The submission period ends June 15th.

THE COALITION ANNOUNCEMENT

DSM-5 Background:

Why this call to action is important to you:

Among other changes, the DSM-5 proposal includes the establishment of a new category called Complex Somatic Symptom Disorder (CSSD). The criteria for a CSSD diagnosis include somatic symptoms that last more than 6 months and significantly disrupt life combined with the doctor's assessment that the patient has a disproportionate concern about the medical seriousness of his symptoms. The guidelines also include recommendations of Cognitive Behavior Therapy (CBT) and antidepressants as the appropriate therapies.

CSSD could prove disastrous for the ME/CFS patient and for patients with other diseases like Fibromyalgia, Gulf War Illness and IBS that are misunderstood, misdiagnosed and mistreated by the medical community at large. For doctors who view the ME/CFS patient as 'just depressed', it will be a small leap to decide that the patient has "disproportionate and persistent concerns about the medical seriousness of one's symptoms" and, as a result, inappropriately diagnose CSSD. Once diagnosed with CSSD, the implications for diagnosis, treatment, disability and insurance will be profound.

The background and associated issues with the DSM-5 and CSSD can be found in the attached "Complex Somatic Symptom Disorders Position Paper" developed by the Coalition 4 ME/CFS.

See Full DSM – 5 position paper here

What you can do:

The Coalition 4 ME/CFS has sent a response to the APA on this issue, which you can find here. (Feel free to use this letter as a template for your response). The DSM-5 team also needs to hear from as many of you as possible about your concerns. Feel free to draw from the Coalition 4 ME/CFS letter for your own comments. Remember, this must be done by June 15, 2011.

Here are the steps to follow to provide your input:
1. Register on the DSM-5 web site to make comments. The "Register Now" site is in the upper right hand corner of the DSM-5 home page. You will receive a confirmation email with a temporary password that you will have to click on to complete registration. If you have registered previously, you should still have an account and can log in in the same box.

2. Provide your comments directly on the CSSD page. It is probably easiest to create your comments outside of the interface and then copy them in. Bolding and other formatting appear to be lost when you copy your document in.

Thank you,

Coalition 4 ME/CFS

The Coalition4ME/CFS consists of the
CFS/Fibromyalgia Organization of Georgia, Inc.
CFS Knowledge Center
CFS Solutions of West Michigan
PANDORA Inc. – Patient Alliance for Neuroendocrineimmune
Disorders Organization for Research & Advocacy, Inc.
Phoenix Rising/Rocky Mountain CFS/ME & FM Association (RMCFA)
Vermont CFIDS Association Inc.
Wisconsin ME/CFS Association, Inc.
US ME/CFS Non-profit organizations are invited to join the Coalition.
Get on the Coalitions email list here: https://www.coalition4mecfs.org/contact.html