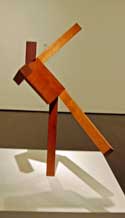 Standing is just not a pleasant experience for many people with CFS. The autonomic nervous systems of a chunk of people with ME/CFS dysfunction when they stand up – sending their heart rates soaring, their blood vessels opening instead of closing and , their brains into confusion due to lack of oxygen. But even if they can stand their problems may still not be over because then they have to balance and that can be problematic in ME/CFS as well.

An exploration of the Romberg Test for Balance – Years ago Dr. Cheney introduced the Romberg Stance test to the ME/CFS patient community stating a positive test result indicated that deep brain dysfunction was common. The test did make it into the Canadian Consensus Criteria (in the physical examination section) but is not found in the CDC's CFS Toolkit (which mentions physical examinations but provides no guidelines at all).
The Romberg test measures how effectively three systems of your body (vision, vestibular input, proprioception) work together to maintain your balance. We orient ourselves in the physical world by examining our spatial environment with our eyes, by using sensory receptors in our joints and muscles (proprioception) to ensure that we are upright and by the vestibular system in the inner ear to determine how to rotate, bend and balance. Two of these systems need to be working well for you to maintain your balance.
The Romberg Test is done using your eyes open and closed. More people fail the Romberg test when their eyes are closing because doing so takes away your vision inputs- thus forcing you to rely on the other two. If one of those two (proprioception, vestibular) are not working properly you will sway or even fall down when you attempt test with eyes closed. Be sure to take the poll if you decide to do the test.
Doing the Romberg Test
1. Stand erect with your feet together and eyes open for a full minute.
2. Then stand erect with your feet together and eyes closed. Have someone close by as a precaution in case you have a strong positive response to the test.
A positive test occurs when you can't maintain your balance and sway or even topple over. The essential feature is your becoming more unsteady with or without your eyes closed. Some practitioners gently tap the patient to see if that throws their balance off.
What is Happening?
Proprioception – according to Wikipedia or proprioception or 'joint position sense' is transferred from sensory receptors in the joints and muscles up the dorsal columns of the spinal cord to the brainstem and up into the central cortex and via the spinocerebellar tracts into the dorsal basal ganglia and up into the cerebellum.
Balance and effort issues? Interestingly proprioception is not just about balance but about muscular 'effort' as well; sensory receptor in our muscles and joints also help us determine how much muscle effort is needed to balance, walk, lift up objects, etc. which leads to the whether some of the muscular tension in ME/CFS could be due to an out of whack proprioceptive/kinesthetic system that locks up as it struggles to figure out how to balance/move the body?
Dr. Wood, an FM doctor who presented at the OFFER 2010 conference, suggested that benign hypermobility syndrome (Ehlors Danlos Syndrome) which is characterized by lax joints could be triggered (if I got this right!) by overly contracted muscles trying to hold the joints in place. Proprioception is greatly impaired in Ehlers-Danlos Syndrome; a genetic condition that results in weak connective tissue throughout the body and which occurs in both FM and ME/CFS.
Severe loss of the sensory apparatus in the muscles/joints or in the spinal column can lead to problems with perception of effort and/or with arms and limbs flopping about the body. One person whose sensory pathways in the spinal column were essentially destroyed by an autoimmune reaction following an infection eventually learned, to control his flopping limbs (they would occasionally hit him in the face!) by using his visual cortex to take over control of them.
Vestibular system – The vestibular system in the ear helps maintain balance through three canals that use fluids, crystals and hair to determine how to position the body as it moves. Problems with the vestibular system induce vertigo, instability and nausea and are often highlighted by difficulty walking or keeping balance in the dark.
Seabiscuit author Lauren Hillenbrandt's inability to remain upright or even to maintain her sensory position while lying down (watching the room whirl about her) may demonstrate the extremes of vestibular dysfunction that occur in ME/CFS.
Cerebellar Dysfunction? – Dr. Cheney has proposed that deep brain dysfunction is causing the Romberg Test result problems. Several websites, however, suggested that the Romberg Test is not a test of cerebellar dysfunction. One stated that "Patients with cerebellar ataxia will, generally, be unable to balance even with the eyes open;[5] therefore, the test cannot proceed beyond the first step". (This information is from the internet, however…..:)
Neurological Conditions – A 'lesion' or wound in any of these above named systems (spinal cord, vestibular system in the inner ear) or in the basal ganglia or the motor neurons can result in a positive Romberg stance test. Parkinson's disease, cerebellar ataxia, normal pressure hydrocephalus and spinal cord disorders can all cause balance problems. Peripheral neuropathy and arthritis can also damage the nerves in the limbs enough to interfere with their signals to the brain.
Spinal cord compression? – people with spinal cord stenosis (spinal cord compression) can fail the Romberg Test. Spinal stenosis occurs when the canal carrying the spinal cord narrows compressing the spinal cord thus interfering with the transmission of signals to the brain. Dr. Wood, a Fibromyalgia practitioner, noted at the 2010 OFFER Conference that his thinking on the importance of spinal cord compression in FM has changed radically over the past few years. He stated that the evidence now indicates that spinal cord compression plays a significant role in a significant subset of people with FM.
Infection – in the "Disembodied Lady' Oliver Sacks reported the case of a young woman who lost her proprioceptive abilities due to a

viral infection

of her spinal cord.[10] The infection resulted in her being unable to move properly or control her tone of voice. Over time using focused exercise (and the concept of neuroplasticity) she was able to acquire 'a stiff and slow movement' and nearly normal speech. She had trouble in judging how much effort to employ in various tasks such as picking up objects -something I think may be endemic in ME/CFS.
Alcohol – Alcohol – which appears to be poorly tolerated in many ME/CFS patients can severely affect the proprioceptive system (which is why the Romberg stance is used during DUI stops). Could the quickly debilitating effects of alcohol in ME/CFS reflect a weakend or impaired proprioceptive system?
Help for Balance Issues?
None of these to my knowledge have been tested in ME/CFS.
Harnessing Neuroplasticity – The Wikipedia article on proprioception includes several disciplines that can be used to help restore balance and reduce muscle effort in some individuals. These disciplines use

focused

techniques to retrain the brain so that it creates new pathways that allow it to bypass whatever injury has occurred. This process by which the brain does this is called 'neuroplasticity'.
Movement therapies such as the Feldenkrais method (see also Anat Baniel) and Tai Chi and some types of yoga use very slow, focused movements that force the brain to shift out of its automatic patterns and build new pathways that can lead to enhanced proprioception.
An exercise ball can be used enhance proprioception by balancing the abdominal/back muscles. The Balance Ball idea is intriguing idea given the blood pooling that occurs in the abdomens of some people with ME/CFS. Several 'exercise' programs in ME/CFS focus on slowly increasing abdominal muscle tone to reduce blood pooling in those areas.
A recent FibromyalgiaTai Chi study published in the New England Journal of Medicine found substantial improvements after a 12 week, twice a week trial of Tai Chi. SF 36 scores were moderately increased while an activity level test (FIQ) dramatically improved. https://pubmed.ncbi.nlm.nih.gov/20818876 They still had fibromyalgia but they felt better and did more.