Discuss this article on the forums

OFFER, the Patient Support Group started by Dr. Bateman in Salt Lake City, Utah missed giving a conference in 2009 but they're back for their fifth conference on Sept 11th. They're giving two conferences this year – a 'Health Providers Conference' (that patients are welcome to attend) and a 'Patient Conference' (which health providers are welcome to attend). The only one who absolutely must attend both is Dr. Suzanne Vernon – who is giving talks in each.
Health Providers Conference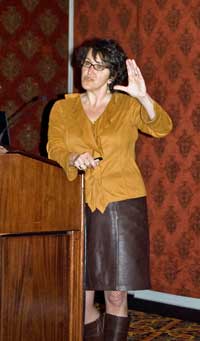 The 'Health Providers' conference starts off with Suzanne Vernon taking on the elusive but critical search for a biomarker in a talk titled "Science-Based Medicine: Biomarkers for the Objective Diagnosis and Treatment of CFS". Note the 'objective' part; diagnosing ME/CFS right now is a 'subjective' process that relies on patients having a somewhat arbitrary (and we now know even somewhat incorrect) suite of symptoms. An objective diagnosis would rely on an objective test – a finding or group of findings that occurs in ME/CFS and nowhere else…..ie a biomarker.
Next up will surely be the most anticipated talk of the conference, University of Utah's Dr. Illa Singh's presentation on "XMRV and Human Diseases: Prostate Cancer and CFS". Dr. Singh is currently engaged with Dr. Bateman in a set of potentially far- reaching studies on XMRV and CFS. Dr. Bateman noted that each set of studies raises for the bar for the others and it appears that the Singh/Bateman XMRV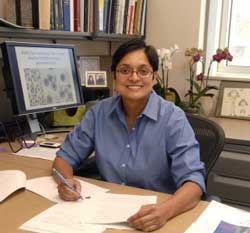 studies will raise the bar very high. There's no telling what Dr. Singh will be able to tell us in a month but it could get exciting.
Dr. Bateman has been engaged in a great deal of FM research as well and the next speaker, Dr. Patrick Wood will talk on "Advances in Theory and Practice in FM".
Then comes what is often the most interesting part of any conference – a hour long panel discussion in which the speakers hash over questions from the audience.
The Patient Education Conference
Dr. Vernon will reprise her early morning talk "Science-Based Medicine: Biomarkers for the Objective Diagnosis and Treatment of CFS" to start off the Patient Conference (see above).
Then Lynne Matallana, the dynamic co-founder and President of the National Fibroymalgia Association will talk on "The Need for Patient Physician Collaboration in FM" a talk that will, no doubt apply to CFS as well. Dr. Bateman has emphasized the need to listen and work with CFS and FM patients – an often time consuming process that the medical profession generally abhors.

Dr. Bateman will finish up the patient portion with a talk on the extraordinary contributions Utah is making to CFS and FM research in "The Utah Connection: Amazing Local Contributions to Big Time FM and CFS Research". Indeed the Intermountain west area from Nevada to Utah – generally considered something of a backwater – is making big waves in these fields. Of course, the WPI is just over the corner in Reno – just an hour plane flight away – while Utah has Dr. Bateman, the Fatigue Consultation Clinic, the Lights with their ground-breaking research on upregulated sensory receptors in CFS and FM and now Dr. Singh in the middle of the hunt for XMRV. Utah has emerged a real hotbed for innovative research.
One of the nice things about our conferences is the chance to meet the speakers and talk with them. (I like it because it's a conference I can finally drive to :). Resting rooms and light refreshments will be provided. Registration for the 'Providers Conference' is $30 for patients and $20 for the Patient Conference.