Discuss this article on the forums
Written by Cort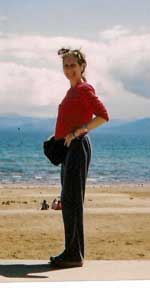 Allow me to share one final experience before I close. As you're probably already aware, the bond between those of us with this illness is strong. If you're like me, you're best friends are PWC's/ME. They're the ones I contact when I really need support from someone who truly understands and vice versa. Our relationships with one another are special and, I believe, quite unique in that not only do our friends and families have difficulty understanding us but so does the medical community. This tends to present itself as a sort of intense loneliness that would be difficult to explain to anyone, even someone who is suffering from another illness. This bond resulted in me finding myself drawn to observing other patients of Dr. P.'s.
As soon as we set up "camp" in the parking lot I would gaze out the window and wonder if that person entering the building was his patient are not. One, in particular, was quite obvious. I saw her emerge from the car and handicapped parking space adjacent to ours. The man who had driven, held her hand as they walked slowly down the walkway to the elevator. She had that walk, you know the one… wide stance for balance, slow, deliberate gait…and the look on both of their faces was a bit sad and a bit worn out.
As I sat in the waiting room the following day they sat across from me. Even though Dr. P sees patients without CFS/ME I knew she was one of us. The man who accompanied her arose to get the papers she needed to sign and then returned them to the receptionist for her. My husband did the same for me.
The following day when I saw them once more, I noticed her hair was obviously unwashed. I understood. In a couple of days, I'd be in the same boat… appointments to make, tests to take…. the ponytail would have to do for now. When my eyes met hers I could "see" the spaciness. I smiled but didn't think she could focus enough to see it.
Back home, when I'm in my GP's waiting room I'll often glance at the other patients. One coughs, another sniffles and the others seem perfectly healthy; none of them have CFS/ME. There is no connection, only a brief wish to trade places with any one of them if only for a day or two.
But this place was different. There was no desire to trade places. We were all fighting the same fight. One of the rooms in the office seemed to be used for those receiving IVs. One day while parked in my wheelchair directly across from that room, I caught glimpse of a young woman seated in a chair, I.V. slowly dripping into her arm.
Our eyes met and though we weren't close enough to speak I felt I knew almost everything about her. Her eyes mirrored mine …that glassiness that says "I'm exhausted and I'm sick ". Her hair was disheveled and she sat up with that slump that says "I'm too weak to sit up straight ". Off and on she would put her head into her hand, rubbing her forehead . Perhaps she had a headache, or perhaps her head was just too heavy to support … either way I'd been there and done that.
I had the urge to give her a hug and might have if I'd had the strength to get up, walk across the room and introduce myself. For now a silent prayer would have to do. It had been quite a while since I was able to attend a CFS/ME support group meeting so for me it was quite touching to be reminded of how powerful this bond is between us.
Thank you for allowing me to share what I consider a very privileged experience. Perhaps if you are one of the close to 1,000 names on Dr. P.'s waiting list this can help you in your decision to persevere or not.
I would like to send a special thanks to Cort Johnson who graciously transcribed my scribbles into electronic type and literally spared me many painful migraines! "Thank you, Cort!" And thank all of you for allowing me to share my experience.
Feel Well,
Corinne's Early Test Results
Virology –
• active EBV
• enterovirus (evidence of active infection)
• HHV-6 (evidence of active infection)
Immunology –
• Extremely low function and number of NK cells
• Low IgG subclass 3
• Very high Interleukin-8 (pro-inflammatory cytokine)
• High levels of fragmented (Low Molecular Weigh) RNase L (protein quantification)
Neurological
• Abnormally high spinal fluid pressure
• abnormal brain MRI (UBO's)
Vascular
• orthostatic intolerance (low BP, low HR)
• low blood red blood cell volume
Metabolic
• very low VO2 max
•
Digestive
• High levels of citrobacter braaki (" bad" gut bacteria)
• very low levels bifido and Lactobacillus ("good" gut bacteria)
Corinne's Tests
Lumbar puncture
Bicycle exercise/stress test
MRI brain with and without contrast
Brain Spect scan
24 hour EKG monitor
24 hour blood pressure monitor
Pathogen Tests by Real-Time PCR
Chlamydia tarchomatis
Mycoplasma hominis
Chlamydolphia pneumonia
Mycoplasma penetrans
Mycoplasma pneumonia
Chlamydia species
Lyme, Borrelia burgdorferi

Other Pathogen Tests
HHV-7 DNA (plasma
Rapid HHV-6 culture and antigenemia
Nested HHV-6 PCR
Nested cytomegalovirus (HCMV) PCR
Rapid HCMV Culture and antigenemia
Epstein-Barr virus chronic/active infection
HTLV – 1/II antibodies, Qual
Enterovirus antibodies profile
Endocrine

ACTH, plasma
Cortisol a.m. and p.m.
FSH and LH
IGF-1 (insulin like growth factor)
Thyroxine (T4), free, direct, S
Testosterone, serum
Thyroid panel with TSH
Immune
RNase L Panel (activity assay and protein quantitation)
Immunobilan
Immunoglobulin, M.,Qn, serum
Immunoglobulin a, Qn, serum
Cytokine profile (interferon-y, interleukin's, etc)
C. reactive protein, Quant
Natural killer cell (total T cells)
TNF alpha, circulating levels
T and B gene rearrangement, PCR
IgG, subclasses (1-4)
HCV Ab w Rflx, to RIBA
Others
Complete metabolic panel (14)
Lipid panel with Chol/HDL ratio
Lactic acid, plasma
Heavy metals (Pb, As, U-Hg, U)
Heavy metals sensitivity tests
Ferritin, Serum
Creatine kinase, total serum
CBC with Diff/platelet
Nitric oxide synthase assay
Amino Acid Prof. Qn (random urinalysis)
Amino Acid Prof. Qn, Plasma
UA/M w reflex culture (urinalysis)
Prothrombin Time (PT)
Narcolepsy evaluation
Iron and TIBC
D- lactate, plasma
Cerebrospinal Fluid Tests
Cerebr+MBP+Oligoc+Pr+CSF (includes total protein, IgG, albumin, IgG Index, IgG/? Ratio, immunoglobulin G., myelin basic protein, illegal clonal bands)
Lyme PCR, CSF
Meningoenceph reflex (West Nile virus ab IgG; herpes simplex virus type 1 and 2 antibodies, IgG)
Cell count, CSF
Glucose, CSF
Epstein-Barr virus PCR, CSF
Lactic acid, CSF
Nested HHV-6 DNA PCR
HHV-7 DNA PCR

Tests to take at Home
CDSA w/ parasitology (purge/random still analysis)
Intestinal permeability